Deanna E. Rahming
Attorney Profile
With over 10 years of litigation and trial experience, including sitting first-chair in dozens of criminal jury trials, Attorney Deanna Rahming is an accomplished criminal defense litigator. As a former Assistant Public Defender, Assistant Regional Counsel, lead criminal defense attorney in the Miami office of The Cochran Firm, a national firm founded by the late, great, Johnnie L. Cochran Jr., and Managing Attorney of The Ebanks Rahming Firm, Deanna has handled cases in more than a dozen counties throughout the state of Florida.
Originally from West Palm Beach, Florida, Deanna E. Rahming (formally Ebanks), earned her Bachelor of Science Degree from the University of Florida, where she majored in Psychology and graduated with Honors. Deanna then attended the University of Miami – School of Law, where she earned the Dean's Merit Scholarship and Honors in Litigation Skills, Trial Advocacy. From an early age, Deanna wanted to practice criminal defense. Upon taking and passing the Florida Bar Examination on the first attempt, in May 2007, Deanna earned admission into The Florida Bar and immediately started working at the Law Offices of Public Defender in Broward County, Florida.
Deanna has successfully tried cases ranging from misdemeanors to felonies punishable by life imprisonment, securing "Not Guilty" jury verdicts and "Mistrials" for clients charged with "Attempted First Degree Murder with a Firearm and Great Bodily Injury," "Aggravated Battery – Deadly Weapon," "Burglary of a Dwelling," "Home Invasion Robbery," "Battery on a Law Enforcement Officer," "Assault," "Battery," and "Driving Under the Influence," to name a few.
Deanna was also featured as one of the "Attorneys to Watch in 2013 – Profiles of Professionalism" in Attorney at Law Magazine – Greater Miami Edition, and is currently a member of The National Black Lawyers Top 40 Under 40 and The National Trial Lawyers Top 40 Under 40 for Criminal Defense.  
In addition to all of her accomplishments as a criminal defense attorney, Deanna has also served as an Adjunct Professor at Keiser University in Pembroke Pines, Florida, where she taught legal classes to students enrolled in the Paralegal and Legal Studies program.
As a breast cancer survivor, Deanna is a fighter both inside and outside of the courtroom and prides herself on providing passionate, reliable, and dedicated legal representation to all of her clients.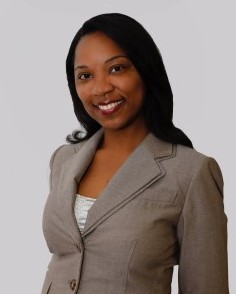 Deanna E. Rahming
Attorney at Law
I would highly recommend Attorney Deanna Ebanks. I had previously fired my defense attorney and retained her legal services for my criminal defense. I had limited time and she vigorously familiarized herself with my discoveries, she provided an informative and honest assessment with my options, and prepared a competent and diligent representation with my defense.
I was impressed with her defense strategies, the rebuttal with the prosecution, and how she achieved the BEST RESULT! Attorney Ebanks provides a pivotal role with seeking the moral principle determining just conduct and excellent representation. Thank you Deanna for your help, I am truly grateful!
S. L. David
Toll Free 
(888) 600-GANS (4267)
Local
(407) 500-GANS (4267)